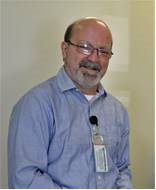 Ontario OH - Ohio District 5 Area Agency on Aging, Inc. is pleased to recognize Leonard (Lenny) Bradford as the recipient of the 2019 Employee Award of Excellence. Bradford was honored at the Agency's quarterly staff meeting.
Lenny Bradford, a resident of Lucas, has been employed at the Area Agency on Aging for nearly three years. He serves as an Ohio Benefits Navigator. Bradford was honored for his work ethic, diligence, and unending support to seniors navigating the path to needed services. Lenny has utilized his position and passion to engage seniors who would have been apprehensive of using services, he showed them services that could assist them and setting them on the path of reaching those much-needed services to better their situation and help them age in place, (at home).
The Ohio District 5 Area Agency on Aging, Inc., located at 2131 Park Avenue West in Ontario, provides leadership, collaboration, coordination and services to older adults, people with disabilities, their caregivers & resource networks that support individual choice, independence and dignity.